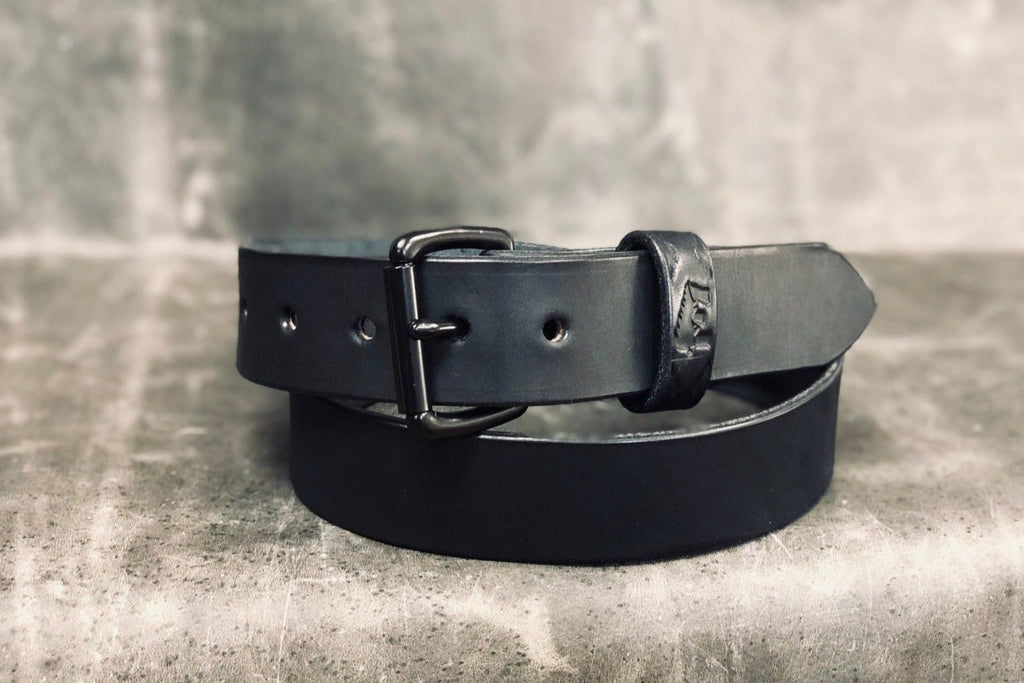 Black Minimalist Belt (Brass & Nickel Hardware Available)
$120.00
Black Minimalist Belt:

Made from 12 oz Veg Tanned leather and equipped with black, brass, or nickel hardware.

Belts are hand cut from a side of the finest American vegetable tanned leather.  Once the belt blank is cut the leather edges are skived, sanded, and burnished to create a strong durable edge that looks great and will stand the wear and tare you'll throw at it for a lifetime of wear. 
All belts are gold foil embossed with the EDG "hand stitched" logo on the backside and branded with the size and "Tree E" on the buckle end
1 1/2" Width
12 oz leather Vegetable Tanned Wicket & Craig Leather 
Available With Black(shown), Brass, or nickel Hardware
 ** All products are hand made to order, please allow one week of make time.**
To get your belt size: (see picture below)
1. Lay a belt you wear flat and measure the distance from the hole at which you wear it to where that hole will sit on the tongue or prong of the buckle when fastened.
Below are the measurements and correlating sizes:
31.5" / Size 28
32.5" / Size 29
33.5"/ Size 30
34.5" / Size 31
35.5" / Size 32
36.5" / Size 33
37.5" / Size 34
39.5" / Size 36
41.5" / Size 38
43.5" / Size 40
45.5" / Size 42
47.5" / Size 44