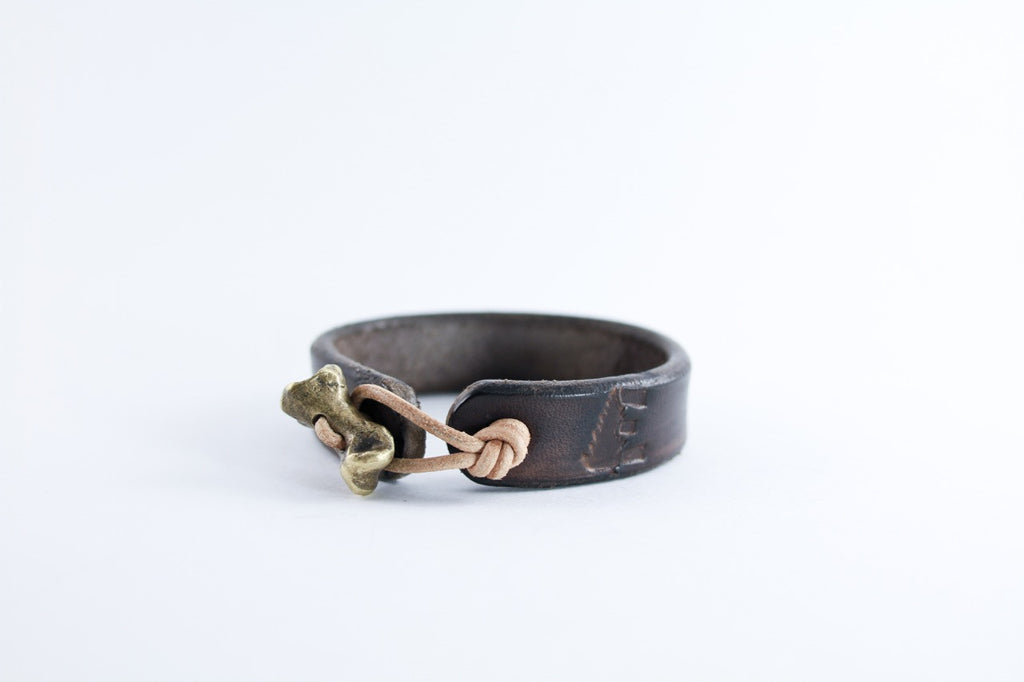 Brass Bear Knuckle Cuff
$85.00
Made with natural, brown or black American leather,  a sold brass cast black bear knuckle and leather cord lace.
Cast from the smallest finger bone on the Alaskan Black Bear, this bracelet is the perfect alternative  or addition to the original Bear Knuckle Cuff.
Brass bone is hand antiqued and will continue to age right alongside the leather lending to unique wear to each owner.
Size Guide:
Measure the circumference of your wrist with the tape measure pulled snug (not too tight, just snug). For S hook closure bracelets please add 1/2", for hook closure bracelets add a 3/4" to a  full inch (less for a tighter fit, more for looser fitted bracelet).
**For reference, my wrist measures 6.5" and I wear a small in both cuff variations.
Button snap closure & S hook closure bracelets:
X Small - 6.5" from center snap to center of snap
Small - 7" from center snap to center of snap
Medium - 7 3/4" from center snap to center of snap
Large - 8 1/2" from center snap to center of snap
Hook closure bracelets; Ivory, Bear Knuckle, Psalm Cuff,:
X Small - 7" around
Small - 7.5" around
Medium - 8" around
Large - 9"  around

If you require a different size than shown please email me.
** All products are hand made to order, please allow one week of make time.**


Stamped then rubbed and burnished with a bees wax mixture before being sent to you with love.