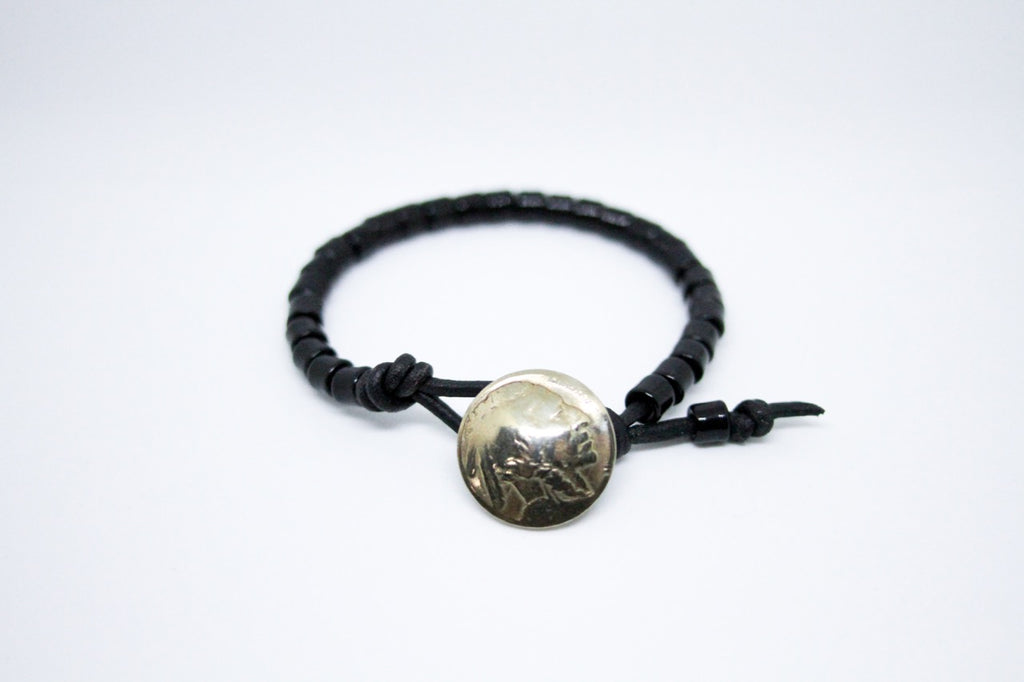 Stealth Nickel Beaded Bracelet
$75.00
One of our earliest designs, this bracelet features vtg glass tube beads, a hand carved deer antler or fossil ivory bead and a deer antler or fossil ivory closure.
 Features:
Authentic old Buffalo Nickels


Indian head side or buffalo

Hand dyed leather lace cord

Vtg small glass tube beads
 *** Pictures show the Indian Head side
***Once you have placed your order, please send and email with your order number to Ewingdrygoods@gmail.com letting me know what color of leather and size you require.***
Size Guide:
Measure the circumference of your wrist with the tape measure pulled snug (not too tight, just snug). For S hook closure bracelets please add 1/2", for hook closure bracelets add a 3/4" to a  full inch (less for a tighter fit, more for looser fitted bracelet).
**For reference, my wrist measures 6.5" and I wear a small in all cuff variations.
Hook closure bracelets; Ivory, Bear Knuckle, Psalm Cuff, Beaded Bracelets:
X Small - 7" around
Small - 7.5" around
Medium - 8" around
Large - 9"  around
** All products are hand made to order, please allow one week of make time.**